Open. Autonomy. Gift. Independent. Wild. Nothing. Everything.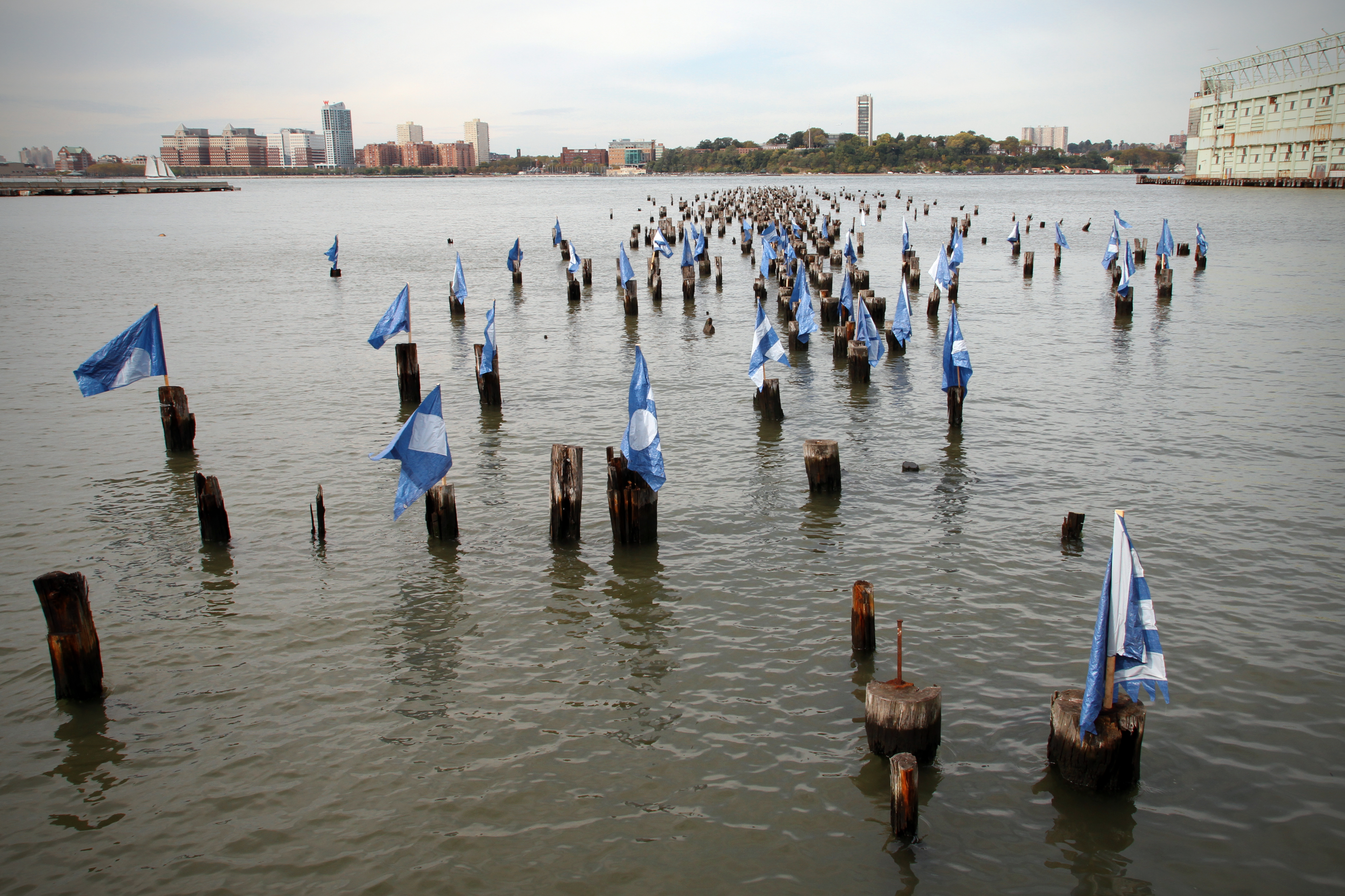 Johannes Rantapuska and Milja Havas, Flux Flags – photo by Timo Sulkamo
60+ ARTISTS TAKE ON 14th STREET THIS OCTOBER
NEW YORK, NY (September 8, 2014) – Art in Odd Places (AiOP), New York City's annual public art and performance festival, is proud to announce its tenth season. Art in Odd Places 2014: FREE will take place from October 9 -12 along 14th Street in Manhattan from Avenue C to the Hudson River. The festival will feature over 70 artists' projects from New York and beyond, who will insert their practice into the daily context of one of Manhattan's busiest thoroughfares.
The ethos of AiOP has always been one of sharing, openness, and accessibility. The festival is produced without a budget, and taken up completely on the initiative of the organizers and participating artists. AiOP is collaborative, horizontal, and constantly in motion. AiOP is FREE.
Creating a test site for the possibilities and limitations of public space, FREE prompts artists to highlight the spectrum of civil liberties, forms of exchange, and personal and collective freedoms in forming a critical idea of what our urban common looks like, and how it functions.
This year, for the first time, AiOP features FREE Agents – projects that go beyond the specificity of 14th Street to bring artworks to other areas of Manhattan and the boroughs. FREE Agents addresses expanded notions of public space throughout the city, responding to its people, culture, and topography.
Click here for high resolution images. Click here for promotional video.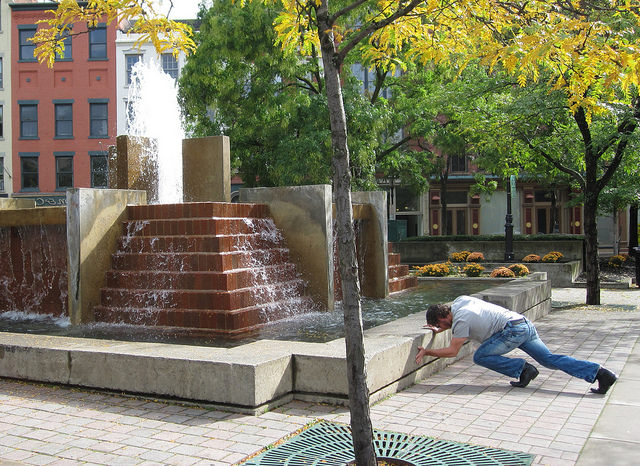 Jesse Eric Schmidt, Nevertheless
WHO:
ARTISTS:
0H10M1KE & TJ | Clover Archer | BabySkinGlove | Big Head Brigade | Joseph Bigley | Maria Builes | Sarah Burrell | Melissa Calderón | Thiago Carrapatoso, Todd Lester & Niki Singleton | Tré Chandler & Jabari Owens-Bailey | Felipe Cidade | Concerned New Yorkers | Amanda Davis | Jim Dessicino | Anthony Donatelle | Nicky Enright | eteam | Fixers Collective | John Craig Freeman | Rory Golden | Kris Grey | Katya Grokhovsky | Leah Harper | Hannah Hiaasen | Jessica Houston | The Illuminator | Kaloyan Ivanov & Raúl Hott | Samuel Jablon | Jantar | Ienke Kastelein | Maskull Lasserre & Central Park Tours Inc. | Anabella Lenzu/DanceDrama | Amanda Long | Andrew McFarland & Emma Dessau | Mobile Print Power & Talk is Cheap | Laura Moore | Willard Morgan | Jody Oberfelder | Cupid Ojala | Joel Ong & Robert Blatt | Jenny Polak | Johannes Rantapuska & Milja Havas | Jen Reimer & Max Stein | Ben Retig & Marianna De Nadal | James Rojas | Caitlin Ryan | Jesse Eric Schmidt | Kara Schmidt | Jesse Seegers | Stephen Sewell | Maayan Sheleff, Eran Hadas & Gal Eshel | Jen Smith | Jeff Stark | Clark Stoeckley | Sasha Sumner & Nick Porcaro | Kevin Townsend | Matej Vakula | Emilio Vavarella & Daniel Belquer | Marieke Warmelink & Domenique Himmelschbach De Vries | Stefanie Weber | Brooks Wenzel | The WORK Intern
CURATORS:
Juliana Driever is a curator, writer, and educator living in New York. Her work strives to create equity for art and ideas that exist beyond a perceived mainstream. She is primarily concerned with public space, site-specificity, and participation, and has worked on a variety of related exhibition, programming, editorial, and writing projects. Recent curatorial work includes About, With & For (at the Boston Center for the Arts), an exhibition that proposed a conceptual grounding for social artworks in a folk ethos. Her recent writing on social and participatory art has been published online by A Blade of Grass Foundation and Bad at Sports, and in the print volumeService Media: Is it 'Public Art' or Art in Public Space? (The Green Lantern Press). In 2013, Driever was also editor of the publication Art in Odd Places 2011: RITUAL. She has participated on numerous discussion and selection panels, including those for the MTA Arts for Transit and NYC Percent for Art programs. Driever is on the administrative staff for the M.A. in Arts Administration program at Teachers College, Columbia University, and teaches in the Art Department at The City College of New York (CUNY).
Dylan Gauthier is an artist, educator and curator working in the public realm, based in Brooklyn, NY.  Through a variety of artistic processes, his work examines temporary occupations, urban land use, digital and public space, the commons, collaboration, and access to information.  He has shown work and lectured at MASS MoCA, PS1, The Walker Art Center, Stacion Kosovo, Issue Project Room, EFA Project Space, Parsons/the New School, Columbus College of Art and Design, Gigantic ArtSpace, the Neuberger Museum at SUNY Purchase, the Boston Center for the Arts, and the Wassaic Project, New York. In 2007 he co-founded the waterfront art collective Mare Liberum as a way to further explore urban water-as-commons issues sparked by his involvement in the collaboratively run Empty Vessel Project on the Gowanus Canal (2005-2007).  He currently helps run The Sunview Luncheonette, a member-based social club and art and social center in Brooklyn.   Gauthier teaches in the Film and Media Department at Hunter College and is a research fellow in digital media at the CUNY Institute for Sustainable Cities.  In 2014, he is a recipient of the Wave Farm Media Arts Assistance Fund for his composition of site-specific electromagnetic field recordings taken in Greenpoint, Brooklyn: Fabric/Fragment of An Urban Wilderness.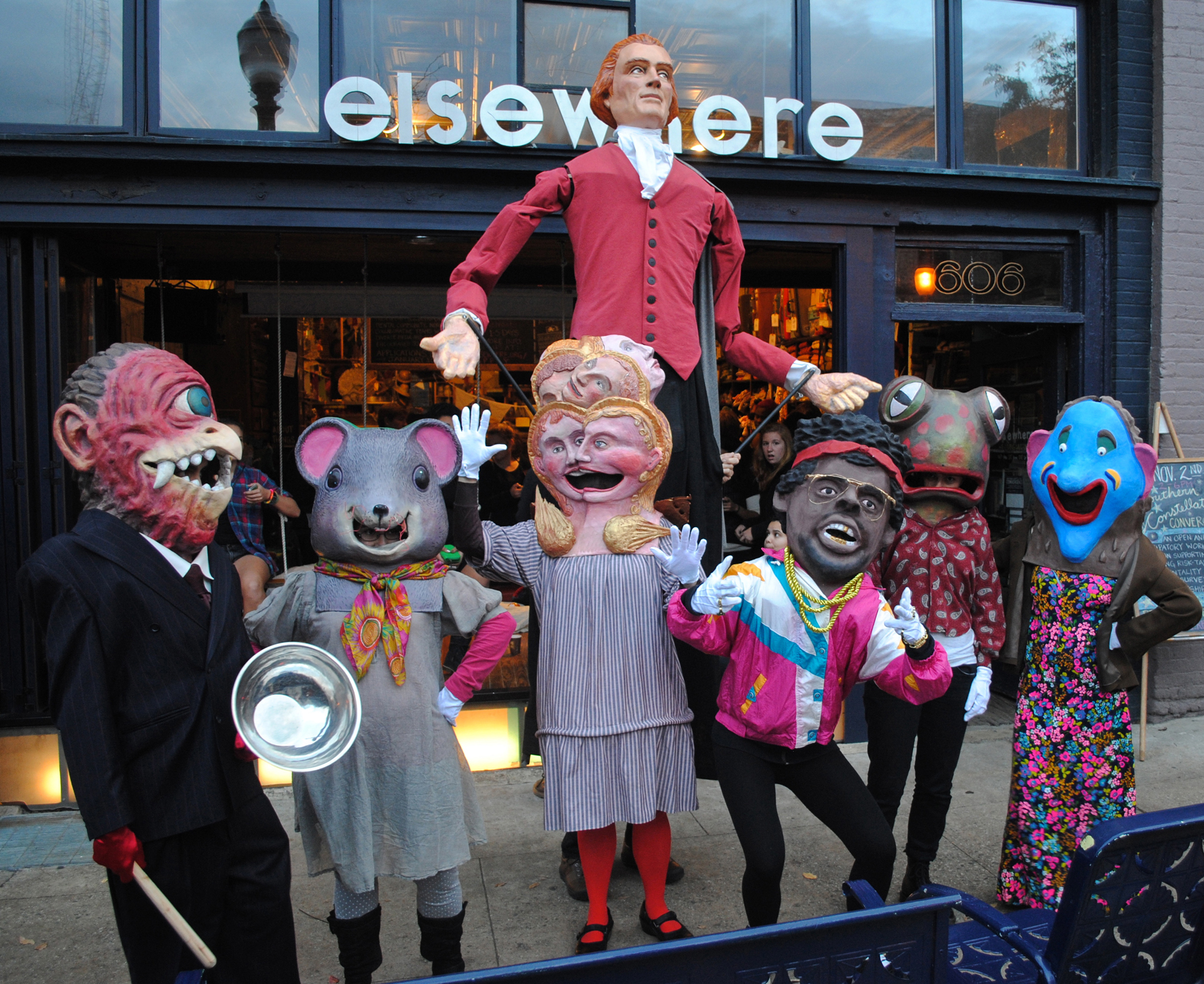 Big Head Brigade – Individual Freedom: Free to be Me, Free to be You
WHAT: 
Art in Odd Places 2014: FREE is the tenth annual NYC festival featuring performances, interventions, visual installations, video, sound and more in public spaces. ALL EVENTS ARE FREE.
For more information about AIOP's history, artists' project descriptions and festival schedule, visit the website: artinoddplaces.org.
WHEN: 
The festival will take place from October 9-12, 2014.
OPENING RECEPTION:
Friday, October 10, 6-9 pm featuring a selection of the artists' projects
Pedro Albizu Campos Plaza
(Entrance on East 14th Street between Avenues B and C)
PUBLIC PROGRAMMING:
All public programs are FREE.
Saturday, October 11, 12-5 pm
Pedro Albizu Campos Plaza
East 14th Street between Avenues B and C
*Horizontal Art and Action*
Free University-NYC
The Free University welcomes workshops, teach-ins, dialogues, and performances by artists and community activists to learn and share power together as part of the Art in Odd Places Festival. In the wake of losing 5 Pointz, Brecht Forum, and the City College Morales/Shakur Center, and also seeing public art become the frontlines of gentrification, we need art and actions that envision creative social change while practicing it.
Themes: Art/mural skills-share. Tenants, workplace, & youth organizing. Radical art history 101. Street journalism. Visualizing solidarity (Ferguson, Gaza, climate justice). Creative direct action training. Walking tours. Horizontal community justice. Spoken word & theater. DIY pamphlet design. Guerrilla media/copwatch. Peaceful parenting.
Contribute/volunteer by filling out this online form: http://goo.gl/ki9So4
Sunday, October 12, 1-5 pm
14th Street Park
West 14th Street and Tenth Avenue
Discussions/Walking Endnote
1–2:30 pm
Join co-authors of The Social Life of Artistic Property in a discussion surrounding their new work. In twenty meetings over two and a half years, the core group of Pablo Helguera, Michael Mandiberg, William Powhida, Amy Whitaker, and Caroline Woolard birthed this provocative volume. The group produced three pieces of writing about experiments in group living and three proposals for the future of artistic property, including initiatives that re-imagine studio space, living space, and artwork.
2:45–4 pm
This un-moderated informal conversation brings together 25 artists from this years festival to discuss the theme FREE, focusing on issues such as privacy, memory and surveillance; debt, labor, and alternative economies; public space, development, and gentrification; and the changing shape of 14th Street itself. This roving program aims to create a dialogue around the respective ways that art and public space are conceived of, instrumentalized, and employed to reinforce a specific form of urbanism.
4–5:30 pm
AiOP: FREE Co-curators, Juliana Driever and Dylan Gauthier, will lead a walking curatorial tour and reflective discussion along 14th Street, from 14th Street Park to Campos Plaza.
WHERE: 
14th Street, from the Hudson River to Avenue C, Manhattan, New York City
Subways: 4, 5, 6, L, N, Q, R, W to Union Square – 1, 2, 3, A, C, E, F, V to 14th Street – L to First Avenue, Third Avenue, Union Square, Sixth Avenue, and Eighth Avenue
WHY: 
Art in Odd Places (AiOP) is a thematic annual festival that presents visual and performance art in public spaces along 14th Street in Manhattan, NYC from Avenue C to the Hudson River each October. Active in New York City since 2005, AiOP aims to stretch the boundaries of communication in the public realm by presenting artworks in all disciplines outside the confines of traditional public space regulations. Using 14th Street as a laboratory, this project continues AiOP's work to locate cracks in public space policies, and to inspire the popular imagination for new possibilities and engagement with civic space. Visit the website artinoddplaces.org AiOP is a project of GOH Productions.